Festive Fall-Themed Drinks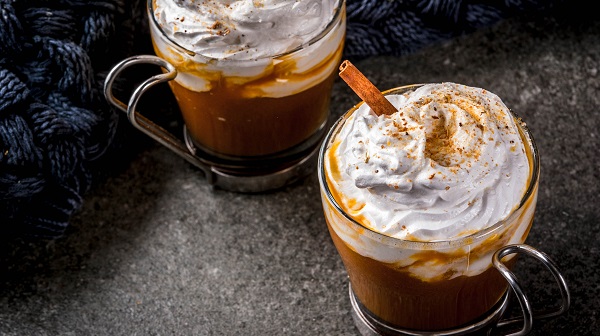 As autumn rolls in, we finally can enjoy the abundance of signature seasonal foods and drinks that we look forward to savoring all year long. These mixed drinks capture the festive flavors of fall in a glass, and you can make each one of them non-alcoholic to share with everyone.
Mulled cider
No drink is as synonymous with the autumn season as cider. When the leaves start changing and the temperatures decline, a cup of simmering cider is the best way to warm up. You can easily make a crock of spiced mulled cider at home. Renowned chef Bobby Flay shares his preferred way of mulling apple cider with Food Network readers. In a large saucepan on the stove, pour 2 quarts apple cider, 2 cinnamon sticks, 2 whole allspice berries, 2 whole cloves and 1 orange that's thinly sliced into rings. Let the cider simmer for a couple minutes, and then ladle into mugs. You could also let the cider warm in a slow cooker on low for 3 hours. If you want to spike your cider, a splash of spiced rum, bourbon or brandy will work best.
Apple cider sangria
Another way to drink apples during harvest-time is by slicing and soaking them in a pitcher of sparkling juice. As an adult beverage, apples blend well with a white wine, but you can make a virgin apple cider sangria by substituting the wine with apple cider and sparkling water, as Manali recommends on her food blog Cook with Manali. She recommends chopping up a granny smith apple, a honey crisp apple and a pear into cubes—without peeling them. Also slice an orange and gather the seeds from a pomegranate. Toss these into a pitcher and pour 3 cups fresh apple cider and 2 cups sparkling seltzer water over them. After these soak and chill in the refrigerator, you can pour them into glasses and enjoy.
Pumpkin martini mocktail
Autumn is also the season for pumpkins. Mashing it into a pie is the most popular way to devour a pumpkin, but you can also drink it, as shown in this recipe by the chefs as General Mills' cooking website, Tablespoon. To make a pumpkin martini mocktail, pour the following into a cocktail shaker: 3/4 cup half-and-half, 1 tablespoon sweetened condensed milk, 1 tablespoon canned pumpkin, 1/2 teaspoon bitters and 1/8 teaspoon pumpkin pie spice (which traditionally consists of cinnamon, nutmeg, ginger and cloves). Stir the ingredients gently and then add a handful of ice before shaking vigorously for 30 seconds. Strain the drink into a glass that's been rimmed with graham cracker crumbs (adhering to the cup by a ring of sweetened condensed milk). If you want to make this creamy dessert drink one with alcohol, you can mix in some Irish cream — especially if it's pumpkin-flavored.
Make a toast to the most beautiful time of the year with any of these delicious drinks and a gathering of your closest friends.
This article is presented by Walnut Creek Honda.