5 Martial Arts Schools in Southern California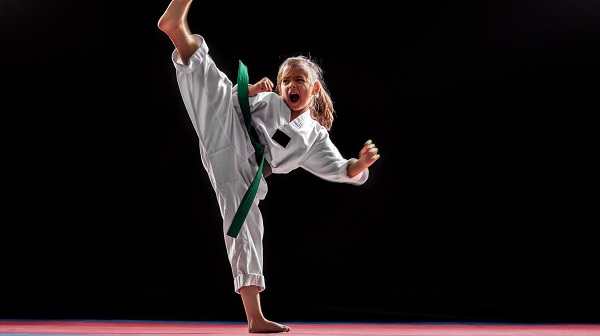 Southern California is known for sun, fun and a laidback attitude, but the list of martial arts school below proves that Southern California is also known for power, strength and intensity. Push yourself beyond your physical limits by training at these martial arts schools in Southern California.
Makoto Dojo
The nonprofit
Makoto Dojo — School of Aikido, Inc.,
in Ventura is led by chief instructor Larry Reynosa, who prides his school on helping each student learn how to stand out uniquely in the world and to apply the lessons learned at the dojo into making good choices in the real world. Kids (starting at age four) and adults can learn the art of aikido or self-defense at Makoto Dojo. Aikido is a Japanese non-competitive practice but will give you the tools to defend yourself when necessary. Avoid, control and choose are the building blocks of Makoto Aikido.
Practical Karate
Along with improving their strength and physical coordination, students at
Practical Karate
in San Diego will also strengthen their leadership skills. A positive attitude, courage and empathy are highly prioritized during your traditional martial arts training at Practical Karate. Classes at the school include karate for adults and kids, boxing and mixed martial arts along with workshops and seminars that focus on fitness, self-defense and health.
West Coast Martial Arts Academy
At
West Coast Martial Arts Academy
in San Diego, you'll be exposed to the unique discipline of Kajukenbo. The mixed martial art of Kajukenbo will challenge your physical coordination, strength and mental focus. Students ranging in age from four (junior warriors) to adulthood will find a place at West Coast Martial Arts Academy. Whether you're new to martial arts training or have been practicing for years, the instructors and classes at this school will offer challenges that will allow you to reach the next level of training.
Martial Arts Family Fitness
Several types of martial arts are taught at
Martial Arts Family Fitness
in Santa Barbara, which means you'll have no trouble finding the right training that will improve your already enviable skills or help earn your black belt. The art of self-defense is taught in the physically-demanding discipline of hapkido. Kickboxing classes will help you sculpt your physique while improving your physical dexterity and fitness level. If you want to become strong and feel confident when faced with an imposing opponent, enroll in the school's teaching of Brazilian jiujitsu. Self-defense and leadership abilities are the focus in the kid's karate lessons. Each discipline highlights the five core values of Martial Arts Family Fitness — integrity, courtesy, indomitable spirit, self-control and perseverance. The PowerFit class offers resistance training for an intense workout.
Inland Empire Taekwondo Academy
You will improve your physical health, confidence level and mental focus when you enroll in training at the
Inland Empire Taekwondo Academy
in Highland. Specializing in the martial arts discipline of taekwondo and highlighting the values of honor, community, courage, self-control, integrity, courtesy and perseverance, the school's instructors will help you achieve your physical goals.
Martial arts training requires focus and intention. These Southern California schools provide the classes and knowledgeable instructors to help you commit to and excel in martial arts training.
This article is presented by Capistrano Volkswagen.