How to Clean Your Jewelry at Home
Renew your jewelry's sparkle with these home cleaning tips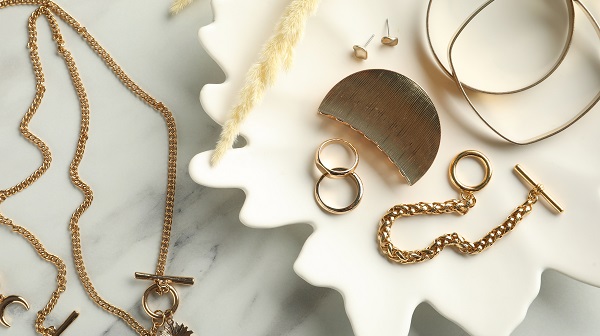 Whether it's a wedding ring you wear every day or a fancy necklace you reserve for special occasions, your jewelry needs proper cleaning to look its shiny best. But what if you don't have the time or the money to take your favorite pieces to a professional cleaner? Fortunately, it's fairly easy to restore your jewelry's sparkle at home — just start with these simple tips and cleaning supplies.
General rules to keep in mind
A mixture of warm water and mild soap will typically be appropriate for most types of jewelry, although the steps may vary depending on the piece you're cleaning. Other good cleaning tools to have on hand include a soft-bristled toothbrush and a soft, lint-free cloth. Per BobVila.com, you'll want to avoid any cleaning substances with ammonia or other chemicals, as these can harm your jewelry.
Cleaning gold jewelry
To clean your gold jewelry, fill a small bowl with warm water and add a few drops of dishwashing soap. Soak the piece for several minutes, then gently remove dirt and oils from difficult-to-reach spots with a toothbrush. Carefully dry your gold with a soft cloth. Be sure not to use baking soda, toothpaste, or other potentially harsh substances as cleaning agents for gold, as these can leave scratches.
Cleaning silver jewelry
Silver jewelry tends to dull and tarnish easily. The quickest way to clean silver is by rubbing it with a soft cloth soaked in a water-detergent solution, then rinsing it and drying it with another cloth. More stubborn tarnish can be removed by applying toothpaste or a paste made of baking soda and water. And according to Good Housekeeping, using a special silver polish or silver cleaning wipes will help restore your jewelry's shine while preventing future tarnishing.
Cleaning gems
It's easy to clean your gemstones and return them to their former luster. Harder stones like diamonds and rubies can be soaked in a water-soap solution, cleaned with a brush, rinsed, and dried with a soft cloth. A simple soak in hot water can also help. Pearls require special care due to their softness. Clean them individually, as soaking can damage the string they're on. If you have costume jewelry that you'd like to clean, avoid soaking these pieces as well — a prolonged bath could dissolve the glue that holds the gems in place.
Cleaning antique or heirloom jewelry
Although many of the steps you'd use to clean newer jewelry can also work for antique or heirloom jewelry, take special care when handling these older pieces. It's wise to do some research before you expose antique jewelry to any cleaning substances or methods you're unsure of. You may also wish to get professional cleaning advice for older jewelry before attempting anything at home.
Preventive care for your jewelry
If you take preventive steps to care for your jewelry, you won't have to clean it as often. For example, to prevent dirt from accumulating, Good Housekeeping recommends taking off rings when you wash your hands, put on lotions, or do any housecleaning. If you wear perfume, put it on before donning jewelry to limit chemical exposure. Regular wiping with a soft cloth can also help to prevent tarnishing and the buildup of grime.
With the right methods and tools, cleaning your jewelry at home can be a great way to save money and keep your rings, necklaces, bracelets, and other pieces looking lustrous and just like new.
This article is presented by Copeland Chevrolet.