Enjoy South America in Tamarindo, Costa Rica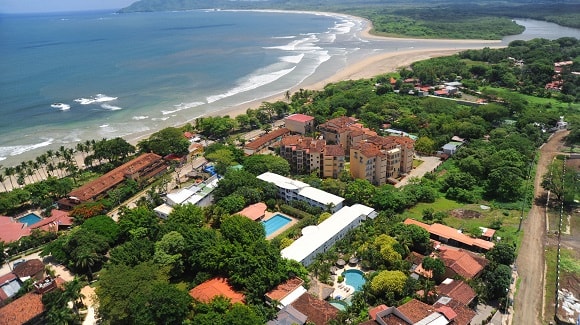 Your vacation time is a precious resource that allows you to unplug from the office and recharge your batteries. If lounging on the sand somewhere warm is your ideal relaxing retreat, consider heading to South America and spending some time in Tamarindo, Costa Rica. The town is located in Guanacaste Province, known for its natural beauty and opportunities to explore. It has world-class accommodations, prime beaches and a unique natural landscape.
What to do
Some of Costa Rica's most intense natural beauty surrounds Tamarindo. There are quite a few beaches in the region where you can go to dip your toes in the Pacific Ocean and work on your tan. If you want to be active on the beach, there are several other ways to enjoy the water. If your dream has always been to ride through the surf on horseback,
several companies offer tours
on the magnificent beasts. Tamarindo is also known for its surfing culture, so there are plenty of places to rent gear to take on the waves.
Kelly's Surf Shop
and area tour operators are on hand to teach you how to surf if you need lessons.
When you're ready to see nature in action, consider heading north of Tamarindo to the
legendary Playa Grande
. From October through February, this stretch of sand belongs to the leatherback sea turtles. During nesting season, turtles crawl from the water at night to lay their eggs. After they're done developing, about a million tiny babies emerge and head for the ocean. If you're in the area during nesting and hatching season, it's an experience you shouldn't miss.
Where to stay
Tamarindo's tropical location means that there is no shortage of places to stay. If you love the beach and plan on spending as much time near the water as possible, check out
the Hotel Tamarindo Diria
. This sprawling beach resort is perched right on the water and features 242 rooms in three unique areas — Family Poolside, Sunset Oceanview and Tropicana Adults Only. This helps the facility cater to each group's unique needs and make sure everyone has a pleasant stay. Besides the rooms, there's a small casino, ten restaurants and bars and area tours you can register for at the front desk.
If golf is more your thing, the
Reserva Conchal Beach Resort, Golf and Spa
is right for you. It touts itself as an eco-friendly resort that doesn't skimp on the luxury you deserve, and features condos and villas to rent for more space to spread out in. If you don't want to eat out for your whole trip, or you want to try cooking with local ingredients, several of the accommodations have full kitchens. Its golf course offers clubs for rent, so you don't need to lug yours on an international flight, and pro shop staff are on hand to make sure your game goes smoothly.
Tamarindo, Costa Rica is a great travel destination to help you disconnect from your daily life and completely relax. Consider heading here the next time you're wondering what to do with your vacation days.
This article is presented by Lexus of Las Vegas.