Check Out These 5 Apps to Help You Meditate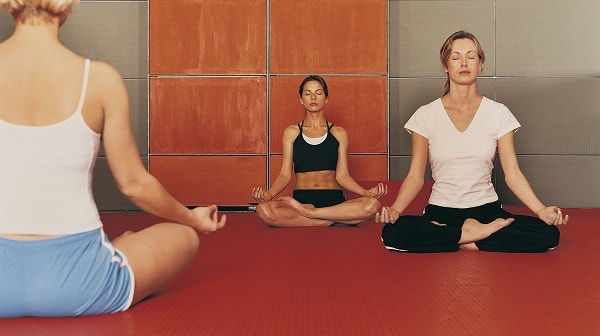 Meditating can be a great way to unwind after a busy day at work. Whether you've been meditating for years or are new to the practice, check out these apps, which can help guide your meditation.
Breethe: Meditation & Sleep
If daily stressors make it difficult for you to sleep at night, the Breethe: Meditation & Sleep app can help. You can choose from bedtime readings, hypnotherapy sessions, sleep music playlists, bedtime visualizations and guided meditations to lull children, teens and adults to sleep. For other times of the day, you can utilize the guided meditation series to help you lose weight, lower your anxiety, improve your relationships and more. To quickly de-stress on the go, you can take advantage of shorter meditations or breathing exercises.
Calm
Calm is a mindfulness app that's great whether you're a beginner or a more advanced meditator. You can choose between a multitude of guided meditation sessions that are between 3 and 25 minutes long, so you can feel more relaxed no matter how hectic your schedule is. The topics addressed in the app are gratitude, self-esteem and how to calm children. Before going to bed, you can listen to Sleep Stories, featuring celebrities like Matthew McConaughey and recordings of Bob Ross to calmly put you to sleep.
10% Happier: Meditation
When you're first getting into meditation, 10% Happier: Meditation can be a useful tool to gradually ease you into the practice. There are over 500 guided meditations to help you stay focused or reduce your anxiety. There are also more relaxing meditations for going to sleep. When you don't have the time or desire to meditate or you need a boost of inspiration, you can listen to quick bits of wisdom or stories on the go.
Omvana
Omvana provides guided meditations with different meditation experts to help people of all experience levels grow. When you're on a tight schedule, you can pick a quick 3-minute meditation. On the other hand, if you have some extra free time, you can also choose meditations up to 60 minutes long. The meditations focus on relaxation, wealth and spiritual growth. You can also customize your meditations by utilizing the background music mixer. The app even connects to HealthKit so it can suggest specific meditations whenever it detects you're stressed.
Insight Timer
Listen to psychologists, neuroscientists and teachers give talks and guided meditations with the Insight Timer app. There are thousands of guided meditations to choose from, with new ones being added each day. You can also play thousands of ambient sounds and music tracks to help you relax. It's easy to see how much progress you're making with meditation, thanks to milestones and stats that track your app usage.
With the daily stresses of work, family and other aspects of life, it's important to set aside time to take a breather and unwind. No matter which app you download, you'll hopefully be able to be more mindful and make meditation a part of your routine.
This article is presented by Bill Marsh.