Two Delicious Lactose-Free Dessert Recipes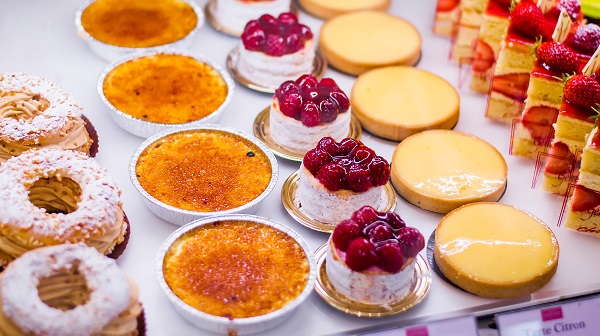 Many desserts include milk in their list of ingredients, so that could rule out some of your favorite treats if you follow a lactose-free diet. Luckily, more and more chefs are finding ways to replace milk with dairy-free substitutes that taste just as good as the original recipe — or even better. Every dairy-free dessert-lover needs to know these two essential recipes.
Banana-based ice cream
Of the many dairy-filled desserts, ice cream is easily the most popular. Unfortunately, fruit-based sorbet isn't the same as a creamy, chocolatey scoop of ice cream, and many dairy-free ice cream alternatives in grocery freezers are very expensive. A great alternative to dairy in your ice cream is to use frozen bananas. They're just as creamy once blended and you don't even need an ice cream machine to make a batch.
Renowned dessert blogger Katie Higgins outlines the easiest way to make banana-based ice cream on her website Chocolate Covered Katie. Peel a batch of ripe bananas (not overly ripe) and slice them into inch-long segments. Place them in a zip-close food storage bag and place them in the freezer until they're hardened (it may take anywhere from 6-12 hours).
Dump the bag of banana bits into a powerful blender or food processor and run the machine until its contents are a smooth, soft serve-like consistency. If the bananas aren't blending, you can pour a tiny bit of milk substitute into the basin to help it reach the proper texture. Dump the banana cream into a plastic container and freeze it for another 30 minutes to ensure its consistency is firmer and scoop-able, just like real ice cream.
To flavor your ice cream, you can add mix-ins to the blender when you churn the frozen bananas or fold them in afterward so they're not pureed. Katie offers many delicious suggestions, like peppermint extract and cacao nibs to make mint chocolate chip ice cream or stirring in crushed cookie sandwiches to make cookies 'n cream.
Dairy-free baked cheesecake
Another delightful dessert with an inherent dairy element is cheesecake. As its name suggests, cheesecake calls for cream cheese, sour cream and other items dangerous to any diner with a lactose intolerance — unless you follow this recipe by Alison Andrews. She explains how to make a dairy-free cheesecake on her website, Loving It Vegan.
If you don't want to use a pre-made crumb crust, you can make your own by blending vanilla cookie sandwiches and 1/3 cup vegan butter in a food processor and spreading the mixture across a pie pan.
For the filling, scoop out the separated cream from a 14 ounce can of chilled coconut cream. Puree it in a strong blender with 1 cup raw cashews. Next, in a mixer, combine two 8-ounce tubs of vegan cream cheese with 1 2/3 cups caster sugar, 1/2 cup cornstarch, 1/2 teaspoon salt, 5 tablespoons lemon juice and 1 teaspoon vanilla extract. After these ingredients are evenly mixed, fold the cashew cream into the bowl and whisk it by hand, adding some lemon zest in the process.
Pour the filling in the pie pan over the crust and bake it for 60 minutes at 320 degrees. Once the pie cools and firms, leave it in the refrigerator overnight before slicing it.
Depending on what additions you include, both of these delicious dairy-free desserts can be vegan-friendly, too — allowing you to satisfy your craving for sweets no matter what you've removed from your diet.
This article is presented by Krause Toyota.