The First-Ever BMW 8 Series Gran Coupe
BMW breaks new ground with elegant, elevated 8 Series Gran Coupe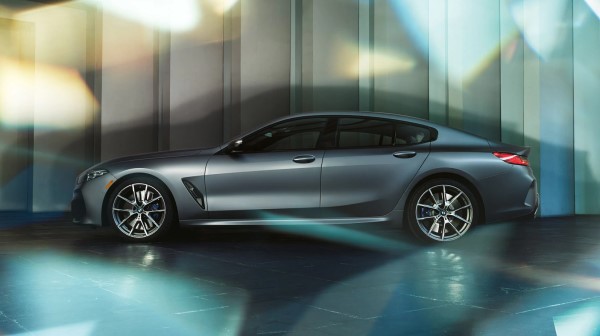 There are those who might argue it's best to not try and fix that which is not broken. That's not the BMW way of doing things. Its ever-present drive for more, better and new motivates the first-ever BMW 8 Series Gran Coupe, a graceful and gorgeous luxury vehicle without predecessor and wholly without equal.
There is a more elegant symmetry that informs the seemingly perfect proportions of the 2020 BMW 8 Series Gran Coupe. The BMW 8 Series Gran Coupe envelops all the best aspects of a sedan and a coupe and of a luxury car and a performance vehicle, resulting in something that makes a firm statement whether in motion or at rest. Its sleek, balanced profile calls for lingering looks, and the roar of its BMW TwinPower Turbo engine evokes a reaction that heightens as the speed increases.
Like the 8 Series Coupe, the first-ever BMW 8 Series Gran Coupe offers the power of the 3.0-liter BMW TwinPower Turbo inline six-cylinder. This lighter version of the mighty inline six puts out an exceptional 335 horsepower and 368 lb-ft of torque, delivering a 4.6-second 0-60 mph spring when paired with xDrive all-wheel drive.* If you want even more, the M850i xDrive Gran Coupe swaps in the latest version of the 4.4-liter BMW TwinPower Turbo V8, offering up 523 horsepower and 553 lb-ft of torque for a 0-60 mph of just 3.7 seconds.
With its longer and wider platform, the 2020 BMW 8 Series Gran Coupe provides superior comfort and handling, making full use of all its turbo power. Available Integral Active Steering increases its intuitive feel at high speeds with optimal stability and agility, and Launch Control makes maximum traction from a dead stop for quicker starts off the line. In every way, the BMW 8 Series Gran Coupe is a performance vehicle for the most discerning drivers.
Setting a new standard is nothing unfamiliar to BMW — it's done that very thing time and time again, which is why it's the first name in terms of automotive luxury and performance. With the all-new 2020 BMW 8 Series Gran Coupe, the maker of the Ultimate Driving Machine
®
has outdone itself once again, proving that there are advantages to never settling.
*BMW AG preliminary test results. Actual acceleration results may vary, depending on specification of vehicle; road and environmental conditions; testing procedures and driving style. These results should be used for comparison only and verification should not be attempted on public roads. BMW urges you to obey all posted speed laws and always wear safety belts.
This article is presented by The BMW Store.