Head Down Under to Perth, Australia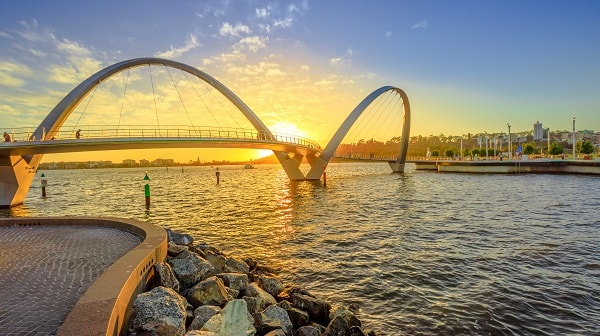 When you're planning an overseas vacation, typically your schedule is packed with monuments and world-class museums you have to see. If you're looking for a bit of international culture but a lot of rest and relaxation, considering heading down under to the city of Perth, located on Australia's western coast.
What to do
Perth has several great places to go if you want to explore the natural world. Right in the heart of the city is
Kings Park and Botanic Garden
. While a lot of the area features cultivated gardens, you can trek through some hidden paths to feel like you're in an urban jungle. Another park,
Hyde Park
, offers more of an urban experience. Its paved walkways, playgrounds and exercise equipment are ideal when you're looking for a fun stroll.
When you're ready to hit the beach and enjoy the Indian Ocean, Perth's most popular beach – and safest, according to Lonely Planet — is
Cottesloe Beach
. If you don't mind sharing your view of the ocean with some fuzzy marsupials, consider heading out to
Rottnest Island
. It's home to a group of very friendly quokkas, which have won a lot of attention online thanks to the selfies tourists take with them. A visit to the island is a great way to get close to wildlife and appreciate the different species that live south of the equator.
If you do decide to learn more about Perth during your visit, consider checking out
Aboriginal cultural experiences
recommended by the city. For example, Aboriginal community members lead tours offered by
Go Cultural
. They help visitors and residents alike learn more about the people that first called the area home.
Where to eat
When your stomach starts growling, head over to
Perth's Swan Valley
. The area is full of restaurants, breweries and bars to satisfy your cravings. It might sound cliche, but Swan Valley is where Perth's residents come to hang out and relax, so you'll get a real Australian experience here. The
Feral Brewing Company
serves its locally brewed beers alongside a sharing menu that's great for sampling several dishes. If you like the idea of a picnic, visit
The Llawn at Mondoon Estate
. You can enjoy a nice glass of wine, salad or pizza on the grass while your kids take on the enclosed playground area.
Where to stay
Perth is a big city, so there are several great hotels to choose from near the city center. To be close to the action, check in at
The Great Southern Hotel
. Its rooms are affordable and offer the same commodities that you would expect from a large American hotel chain. If you want to spend your trip wrapped up in the lap of luxury, book a room or suite at
COMO The Treasury
. This upscale hotel is in a restored 19th-century building and loaded with custom furniture and finishings. There are two restaurants on the property as well as a spa to help you truly unwind.
If you're ready to head overseas and relax, think about booking your next vacation to Perth, Australia.
This article is presented by Lexus of Las Vegas.