Exotic Cheeses You Need to Try at Least Once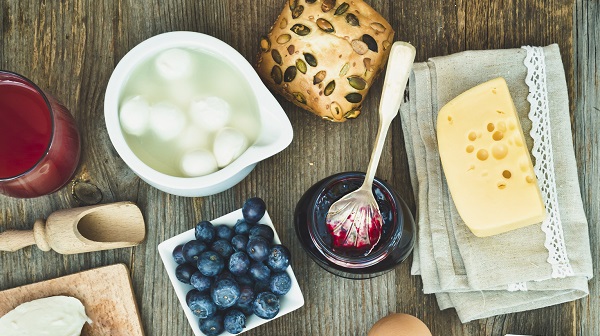 Whether you consider yourself a cheese enthusiast or a casual fan, it's always an adventure to expand your cheese-tasting palate with something exotic. Jazz up your next charcuterie platter beyond the usual cheddar, gouda, Wensleydale, and brie by including one of these lesser-known international cheeses.
Roquefort
This French cheese is the king of blue cheeses, as only those aged in the Combalou caves of Roquefort-sur-Soulzon may possess the name Roquefort. It gets its blue veins and tangy flavor from the penicillium roqueforti spores injected into sheep's milk curds. Don't let that description or its moldy appearance concern you; Roquefort is non-toxic and actually pairs very well with a hearty pasta or nice steak.
Burrata
This cheese's name means "buttered" in Italian, indicating its rich, gooey filling. Burrata may remind you of a creamier mozzarella in flavor and appearance. That's because burrata uses mozzarella curds (called Stracciatella) that have been dipped in fresh cream and wraps them in a firm outer casing. Since burrata has a similar flavor to mozzarella — as both are traditionally made of buffalo milk — you can use burrata as a substitute atop pizza, salads, or toasted bread with fresh fruit.
Chevre
Another French creation, chevre is made of goat's milk — no surprise, since "chevre" is the French word for "goat." Thus, it can be made in a variety of ways producing a broad spectrum of flavors, from soft and grassy to firm and salty. Chevre is so diverse that you could easily create a tasting platter of just chevre cheeses.
Goat cheese made in the U.S. is typically made of pasteurized goat's milk and has been matured for only a week or two; true French chevre is made from raw milk aged for at least two months. So, even if you don't like other goat cheeses you've tasted before, you may find a firm, authentic chevre to be far more agreeable.
Halloumi
This type of cheese has soared in popularity in recent years for being dense and firm, with a high melting point that makes it a good substitute for meat. Hailing from the Greek island of Cyprus, Halloumi is made of a specific ratio of goat and sheep milk. Instead of eating it raw, cut Halloumi into thick, round slices and fry it until brown. Its body and salty flavor work great on pasta, grilled cheese sandwiches, cheeseburgers, and even curry.
Cotija
Europe isn't the only source of great cheese. You can find this delicious type right here in North America, courtesy of Mexico. Salty and crumbly, this cow's milk cheese gets its name from the town of Cotija in Michoacán, where it originated. It has a mild flavor comparable to feta when it is young or Parmesan when it has aged and firmed, making it an excellent topping on any true Mexican dish.
Sakura
You may not associate Japan with fine cheeses, but that's probably because you haven't tasted this soft, smooth, delicately flavored cheese made of cow's milk that comes from Hokkaido. Bearing many similarities to camembert, what makes Sakura cheese unique is its use of cherry blossoms in the aging and serving processes. Traditionally, Japanese cheesemakers mature Sakura atop cherry blossom leaves and then top it with a pickled cherry blossom. Thus, it absorbs the gentle aroma and taste of cherry blossoms.
The next time you visit your local grocery store, swing by the cheese counter and see if they carry any of these exotic cheeses from around the world. You may find a new favorite among this selection.
This article is presented by Sanderson Ford.