5 Thrilling Go-Kart Tracks in the Tri-State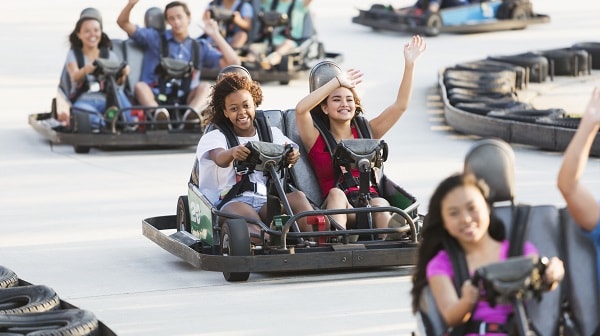 Racing against your family, friends or coworkers on a go-kart track is a surefire way to have a blast, rev up your competitive spirit and participate in an unforgettable driving experience. The following go-kart tracks in the Tri-State are a must visit on your way to go-karting success.
The Funplex (New Jersey)
The go-karts at
The Funplex
in East Hanover have gone green. The indoor road course winds around and boasts tight turns perfect for challenging your driving skills and the powerful performance of the electric go-karts. Skill levels are not an issue. If you have never raced or raced a ton, the electric-powered go-karts are equipped with settings for speed based on your go-kart racing prowess. A driver's license isn't even required to get behind the wheel of the go-karts at The Funplex.
Hunterstown Speedway (Pennsylvania)
The
Hunterstown Speedway
located in Gettysburg welcomes drivers and go-kart enthusiasts of all ages to push their limits on a 1/5-mile track paved with dirt. There are no sore losers and bad winners at Hunterstown, which stresses the importance of good sportsmanship from all its competitors. The family-friendly speedway has been delivering racing thrills and inspiring drivers since 1962.
Monza Karting (Connecticut)
The racing atmosphere at
Monza Karting
nestled on the ground floor of the Fox Tower Garage in Wallingford is intense. Drivers ages 16 and up can test out and improve their driving skills in the sleekly engineered gas-powered go-karts. The indoor track has room for junior drivers (between ages 10 and 15), too. The track features multiple levels and 14 turns, making this go-kart track challenging and exciting. Open seven days a week, Monza Karting's 1,500-foot track is one you will want to drive again and again.
RPM Raceway (Connecticut)
RPM Raceway
in Stamford doesn't require go-kart driving experience or even a driver's license. It just demands that you are willing to have fun and be the best driver you can be. The RPM Raceway is more than a go-kart track — it's an escape from the world you know. While you're behind the wheel of an electric RPM Raceway go-kart, which can reach a maximum speed of 45 mph, your adrenaline will pulse as you maneuver the twists and turns of the course.
Staten Island Raceway (New York)
At the
Staten Island Raceway
at Staten Island FunPark, you and your friends or family will have 800 feet to see who has the driving skills to earn first place. You can ride in double or single karts on the outdoor track. To be the leader of the pack, you don't need a driver's license, just a competitive spirit. Solo drivers and drivers riding with a passenger need to reach the height requirement of 58 inches tall. A height requirement of 40 inches is necessary for passengers. If you're driving with a passenger, you must have already celebrated your 18th birthday.
At these thrilling Tri-State go-kart tracks, you can unleash your inner racecar champion or just have an excellent, fun-filled night you won't forget.
This article is presented by East Hills Chrysler Jeep Dodge Ram.