Healthy Homemade Mexican Recipes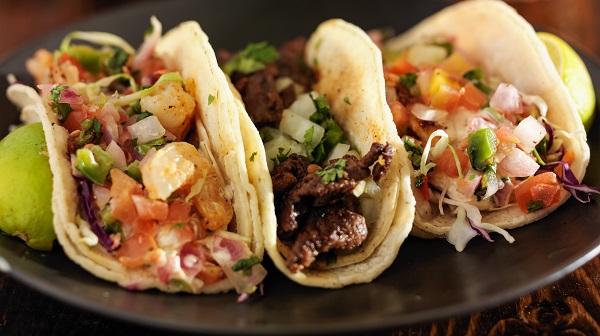 Craving a meal of south-of-the-border food but trying to eat healthy? You can cook a variety of waist- and diet-friendly alternatives of your favorite Mexican and Tex-Mex dishes. Here are some examples.
Dairy-free queso dip
Queso dip is an essential appetizer for your Mexican meal, but not everyone can — or should — consume that fat-filled bowl of processed dairy. Certified nutritionist consultant Megan Gilmore shares a highly rated recipe for vegan queso on her cooking website Detoxinista. By using a cashew base, this dip is low in fat and high in iron and magnesium.
Start by soaking a cup of raw cashews in a bowl of water for four hours. Then, drain the cashews, and dump them in a high-speed blender along with 1/4 cup water, 1 teaspoon sea salt, 1 1/2 tablespoons freshly squeezed lemon juice, 3 tablespoons nutritional yeast and 1/2 teaspoon turmeric. Soon after you flip the switch, the mixture will blend into a cheese-like consistency. Pour the liquid into a bowl and stir in the contents of a 14-ounce can of diced tomatoes with green chiles. Warm the dip slowly in a crock pot or on the stove and serve with tortilla chips.
This yields 10 servings (one bowl), but if you want to indulge yourself because it's a healthy snack, you can increase the ingredients to create more.
Meatless enchiladas
Create a main course that is filling without being meat-filled by following this recipe from Cookie + Kate. Her veggie black bean enchiladas forgo the ground beef — or any ground meat — in favor of seasoned vegetables and beans.
In a large skillet, cook the following: 1 chopped small red onion, 1 chopped red bell pepper and 1 bunch of broccoli florets cut into small pieces. Once those are nearly cooked, add 1 teaspoon cumin, 1/4 teaspoon cinnamon and 5 cups packed baby spinach (added a handful at a time).
Dump the skillet's contents into a mixing bowl, where you'll add a 15-ounce can of black beans (rinsed), 1/4 cup shredded Monterey Jack cheese, 2 tablespoons of enchilada sauce, 1/2 teaspoon salt and a pinch of black pepper.
Spray cooking oil and pour 1/4 cup enchilada sauce in the bottom of a glass cooking pan. Gradually fill the pan with a row of wheat tortillas rolled with the vegetable mixture inside. Drizzle with more sauce atop and bake in the oven at 400 degrees for 20 minutes. Top with chopped cilantro and enjoy!
Gluten-free churros
Yes, you can make a tasty Mexican dessert that tastes like the real thing but without the gluten — or the deep-fryer! Becky Hardin shows how on her blog The Cookie Rookie.
In a large saucepan, heat and stir 1 cup water with 1/4 cup butter or margarine, 1 tablespoon sugar and 1/4 teaspoon salt. Once the water is boiling, reduce it to a simmer and carefully mix in 1 cup gluten-free baking flour. Once the mixture blends smoothly in the pan, pour it into a blender and let it cool for a couple minutes. Then you'll add a large egg and 1/2 teaspoon vanilla. Run the blender until that mixture is smooth.
You'll transfer the dough to a piping bag with a star tip. Squeeze it out in five-inch logs into a hot, deep skillet on the stove with an inch of vegetable oil along the bottom (warmed to 375 degrees). After each side fries for a couple minutes, transfer the churros to a paper towel and briefly pat them dry before rolling them in a bowl of cinnamon/sugar mixture.
Becky suggests dipping the churros in a chocolate sauce consisting of dark chocolate chunks and heavy cream warmed and blended, but you can use your own healthy dip if you prefer.
Throw a culinary fiesta with these light and fit takes on classic Mexican dishes. Your body and taste buds will surely tell you, "gracias!"
This article is presented by Zimbrick European.