Vehicle Details: 2019 GMC Yukon Safety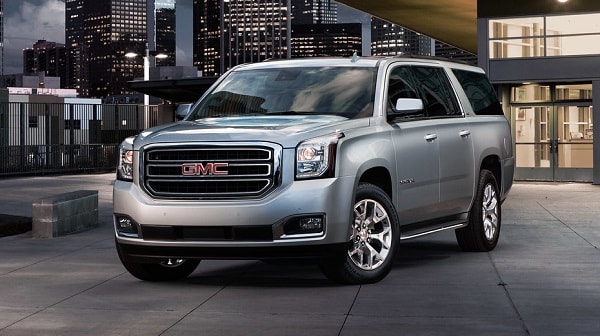 Getting behind the wheel of a vehicle as large as the 2019 GMC Yukon comes with a healthy dose of peace of mind to begin with, but it never hurts to have more when it comes to safety. As a luxury vehicle, the GMC Yukon features high-end, comfort-enhancing materials and advanced technologies not only for your convenience, but also for your enhanced safety.
Driver alert technology
Using cameras, ultrasonic sensors and radar technology, the 2019 GMC Yukon is constantly updating itself on the state of its surroundings. It uses this information to improve your safety and that of your passengers. For instance, Low Speed Forward Automatic Braking can detect if a front-end collision is imminent and, if you haven't already done so, will automatically apply the brakes to help mitigate or avoid the accident. The GMC Yukon can also alert you if you are about to change lanes while a car is in your blind spot, if there is incoming cross-traffic while you reverse and if you are unintentionally drifting from your lane. In the last case, it will even gently steer the car back into its lane for you. And if you don't like to receive audible warnings, that's no problem. The Yukon comes with a GM-exclusive Safety Alert Seat that gives you the option to receive haptic seat-bottom vibrations instead of sound alerts.
Additional security
To provide additional safety, the 2019 GMC Yukon is equipped with an industry-first front center airbag, which can help protect you and your front passenger in side-impact collisions. If you have children who are starting to get behind the wheel on their own, the built-in Teen Driver system will help encourage safe driving habits by automatically activating certain safety systems and allowing you to set limits on other features. It can also output an in-vehicle report card to help you identify areas where your teen can improve their driving. If you are ever involved in an incident, OnStar
®
ensures you are not without help thanks to features like Emergency Services, Automatic Crash Response, Stolen Vehicle Assistance and Roadside Assistance.
The 2019 GMC Yukon is equipped with many clever and useful technologies that bolster your safety and that of your passengers. It also helps that it's large enough to swallow many of the smaller vehicles you'll encounter on the road.
This article is presented by Bill Marsh.