4 Thrilling Go-Kart Tracks in Ohio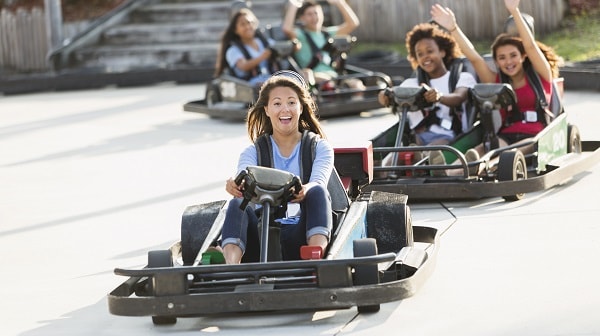 Skilled drivers, novices and anyone who wants to feel a driving rush will find pure excitement at the following fast-paced, exciting go-kart tracks in the Buckeye State. So, if you've been eager to get back on the track or you're ready to drive a go-kart for the first time, set a course for the following go-kart tracks in Ohio.
Buckeye Raceway
Indoor karting at
Buckeye Raceway
in Columbus is an eco-friendly way to get your adrenaline pumping while being a little kinder to Mother Nature. The electric-powered SODI go-karts are green and pack a punch. Racing at a maximum of 45 miles per hour, you'll feel the wind in your hair and the thrill of competition. Junior drivers (minimum age of eight and 48 inches in height) will still have a blast whipping around the track at a maximum speed of 25 mph. The track measures one-quarter mile, and experience is not necessary. The motto of the Buckeye Raceway is "arrive and drive."
High Voltage Karting
Located in Medina, which is a hop, skip and a jump away from the city of Cleveland,
High Voltage Karting
is the place to go if you want an intense go-karting adventure. The indoor karting venue promises an unforgettable experience for the whole family, and because it's an indoor track, Ohio winters and inclement weather won't ever put a damper on your driving fun. High Voltage Karting is a 40,000-square-foot facility, and in addition to its modern go-karts, it has historic bragging rights — it has called the Foundry building its home since 1912. Whether you're racing with friends or family, or need an epic location for a party, you'll find the excitement you crave at High Voltage Karting.
Full Throttle Indoor Karting
If you or your family members are between the ages of four and 94, and are ready to push your driving skills to the limit, then head on over to
Full Throttle Indoor Karting
in Cincinnati. The racing venue doesn't require any reservations. If you're ready to hit the gas and leave your fellow drivers in the dust, then Full Throttle Indoor Karting is ready for you. The Adrenaline track will test your skills thanks to its many corners and 1/4-mile length. The Rush track features 11 corners, and if you're determined to best your speed record, tackle this course. The combination of the two tracks will have you speeding through the Adrenaline Rush Super Track. You'll have 26 corners to navigate every Tuesday.
Adkins Raceway
Adkins Raceway
in Port Washington offers a training ground for aspiring drivers. Drivers as young as five can participate in the Adkins Karting Championship Classes. The Adkins Raceway delivers a challenging course equipped with six-turns. You can rent karts or participate in the Adkins Karting Championship. A personal driving coach can help improve your driving skills or beat your best time. "Arrive & drives" are also possible at the esteemed track. Shop for everything you need at the Adkins Speed Center.
Driving adventures in Ohio will be extraordinary at these fun go-kart tracks.
This article is presented by VanDevere Auto Group.