MINI JOHN COOPER WORKS: FASTER AND MORE FURIOUS
The John Cooper Works lineup lives up to its namesake's legacy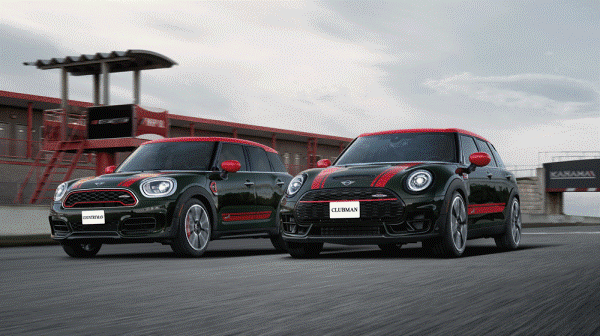 One of our most precious goals is carrying on the name and legacy of John Cooper, the racing legend who turned Sir Alec Issigonis' Classic Mini into a dominant rally car. There is no better way that we can think of to make sure that torch burns brightly than to apply the man's name to our lineup of high-performance, high-fun and track capable vehicles. Enter MINI John Cooper Works.
Our MINI John Cooper Works lineup demonstrates why we've been one of the first names in fun for more than 60 years. All of our vehicles are expertly engineered, but our John Cooper Works vehicles leverage the knowhow that helps continue our motorsport legacy even today. With available features like full Aero Body Kits, sports exhausts, Formula 1-style paddle shifters mounted on the steering wheel and Nitron suspensions with adjustable damping, John Cooper Works vehicles are bred for the thrill.
Nowhere is our expertise in exhilaration more evident than in each MINI John Cooper Works vehicle's mighty MINI TwinPower Turbo engine. The 2019 MINI Hardtop 2 Door and Convertible both boast a 228-horsepower engine, delivering quick acceleration off the line and ample power at highway speeds. Whether you want the closest thing to the Classic Mini or the freedom to drop the top when the weather is nice, the John Cooper Works Hardtop 2 Door and Convertible give you everything you want with more than enough power to go with it.
No MINI is more impressive than our new 2020 John Cooper Works Countryman and Clubman, both of which feature a new MINI TwinPower Turbo that cranks out 301 horsepower and 331 lb-ft of torque and enables a 0-60 mph sprint of just 4.6 seconds. Pairing all that might — more than you'll find in any production MINI ever made — with standard ALL4 all-wheel drive and fully redesigned sport brakes, cooling and exhaust systems, and the new John Cooper Works Countryman and Clubman show that the work of John Cooper resonates to this very day.
If you want the iconic style, premium presence and legendary handling of a MINI as well as that little bit of extra oomph, you want John Cooper Works. As perfect for a weekend afternoon on the track is it is for your Wednesday afternoon commute, these vehicles embody everything that we stand for and stand by.
This article is presented by Cincinnati MINI.