The New 2020 BMW 5 Series Sedan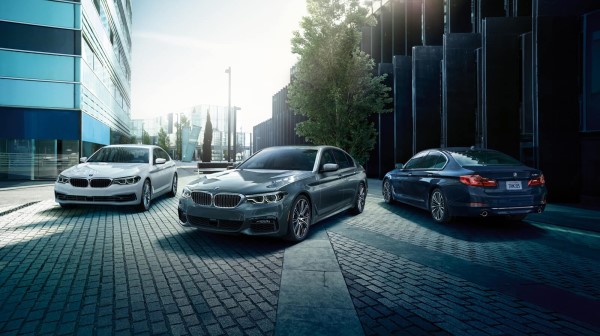 When premium styling and imposing performance intersect, the result is the 2020 BMW 5 Series Sedan. Always raising its game and raising the bar for other executive sedans, the 5 Series achieves a new plateau for 2020 with nimble driving dynamics, the innovation of a plug-in hybrid option and a wide range of technologies that make the experience even more gratifying.
Gratification is the exact sensation you'll feel whenever you lay eyes on your 2020 5 Series Sedan. With its sleek silhouette, low stance and dynamic details, you're consistently left with the impression that your hard work has paid off and your BMW is your reward. That same impression is conveyed widely and loudly, with every inch and every angle broadcasting that you are a person of refined tastes and elevated expectations.
Backing up the powerful appearance of the 2020 BMW 5 Series Sedan is a level of performance worthy of the Ultimate Driving Machine
®
name. You have four exciting powertrain choices with the 5 Series, including the 4.4-liter BMW M Performance TwinPower Turbo V8 that powers the M550i xDrive, delivering 523 horsepower and 553 lb-ft of torque for maximum enjoyment. For an ideal balance of excitement and efficiency, the BMW 530e pairs the 2.0-liter BMW TwinPower Turbo inline four-cylinder with an integrated AC synchronous electric motor to return 69 MPGe and deliver instantaneous torque for a quick start off the line.* Whatever you choose, you'll experience the nimbleness, balance and maneuverability that is requisite of the 5 Series.
Inside the 5 Series Sedan, you'll be met by superior luxury in the form of soft-touch surfaces, genuine wood trim elements and a cohesive design that is a testament to craftsmanship and attention to detail. The 2020 BMW 5 Series Sedan also delivers when it comes to intelligence thanks to the debut of the iDrive 7.0 Operating System, new BMW Connected features like On-Street Parking and the innovative Remote Control Parking feature available on the 540i and M550i.
BMW has once more raised the bar with the 5 Series Sedan, putting it even further ahead of the competition and closer to the seemingly unattainable goal of perfection. See how the 2020 BMW 5 Series achieves in ways other luxury sedans cannot when you visit your local BMW dealer.
*Preliminary EPA-estimated figures are for comparison purposes only. Your actual mileage will vary, depending on speed, driving habits, trip length and driving conditions; actual mileage may be lower. Note for MPGe: All data are provisional and subject to official confirmation. The provisional power consumption figures have been calculated based on the ECE test cycle.
This article is presented by BMW of Cincinnati North.