Why Do You Drive a Lexus?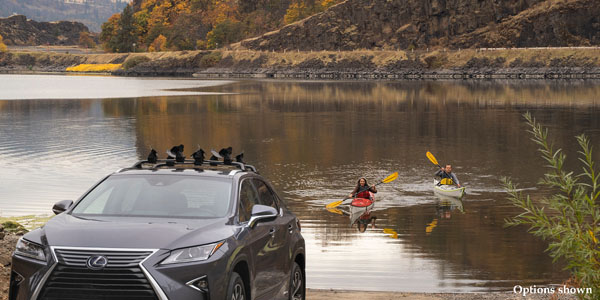 So how is your Lexus an asset to your life?
Over the years, countless Lexus owners have contacted Lexus to express their reasons for driving their vehicles. As expected, their motivations range from the practical ("the entertainment features make it the best car for transporting kids," says one driver) to the exhilarating ("I love a car with an engine I can feel in my bones," reports a Lexus RC F owner).
But the fact is, when it comes to Lexus models, the reasons for choosing them are incredibly diverse. Here's a small anecdotal snapshot from your fellow Lexus drivers:
Family legacy:
"All through my young adult years, in the 1990s, my father drove a red Lexus convertible that he especially loved for small road trips," says one Lexus owner from the Northeast. "At the time, I didn't give much thought to luxury cars until my father passed away and left me his Lexus. It was a bit of a reflective time for me, and I dealt with his passing by taking that Lexus on a long drive across the country. In a way, that vehicle helped me understand my dad a bit and why he valued a good car. I ended up driving it for many years as a way to remember him, and when I reached my 40s, I bought a new Lexus, a convertible RC. I'll definitely own Lexus models for as long as I can drive."
Adventure:
"I like to call myself a surf-mom eco-activist," says another Lexus driver, from California. "I've surfed all my life and even won several big competitions in my youth, back in the 1970s. But when I look back at my surfing life, I think mostly about decades spent as an ambassador for surfing. Over the years, I've used my succession of Lexus SUVs to drive groups of surfers and their boards to my favorite West Coast beaches. My husband and I got turned on to Lexus about 25 years ago, and we've owned a lot of different models—all of them surf vehicles for us—but I've really appreciated the RX hybrids. Along with surfing, I've spent much of my adult life as a grassroots ocean-conservation consultant, and my Lexus hybrids have been a natural fit in that regard—as well as great surf cars."
Professional support:
"I continue to drive Lexus vehicles because of my retirement career—and because it can snow 400 inches where I live," reports a Lexus driver from the Lake Tahoe area. "I was a dentist in Cleveland for many years and owned a Lexus sedan, which I loved. But it's my second career that requires a Lexus, I feel, for professional reasons. I love to ski, so I moved to Tahoe after I retired and became a ski instructor at Northstar-at-Tahoe Resort. Around here, cold weather can make for some pretty treacherous road conditions, which is why I've owned a four-wheel drive Lexus RX with proper snow tires ever since I moved here. As long as the passes are open during snowy, icy driving days, I know I won't have a problem getting to work on time, or have a problem getting back."
Extreme convenience:
"Most Lexus drivers I know love their cars for their convenience features, but in my case, convenience is extra important," explains a Lexus owner in Alaska. "When I was younger, I lost my left leg and part of my right arm, but I never lost my love for driving—it's how I chill out. Lexus models were the first vehicles I found that didn't require special modifications for me. I purchased my first Lexus, for example, in the 2000s, because it had been designed with an ignition on the dash instead of the steering column, which was easier to manipulate with my artificial limb. Over the years, I've enjoyed how easy it is to reach buttons and controls in Lexus vehicles, as well as the voice-activation features. The driver-focused interiors just keep getting better and better."
By Brian Gill