Vehicle Profile: 2020 Porsche Cayenne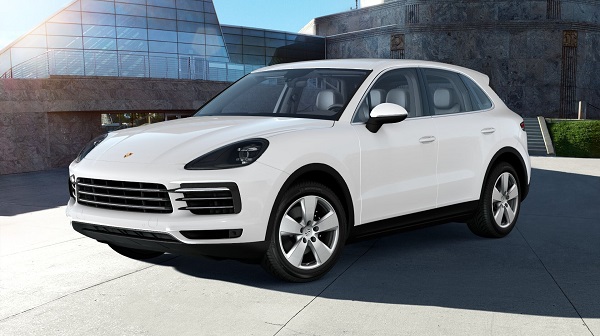 As the name would suggest, the 2020 Porsche Cayenne brings the heat necessary to kick the flavor of your daily drive up a notch. Don't let the family-friendly proportions fool you into thinking that the new Cayenne is anything but a sports car of Porsche proportions. With unbelievable performance capabilities, peerless style and modern-day intelligence, the 2020 Porsche Cayenne is the sizzle, steak and spice you crave.
All the power you could ever need
There's no such thing as compromise with the 2020 Porsche Cayenne. The question with the Cayenne is never whether you want power — it's how much power you can handle. You'll have no shortage with the standard 3.0-liter turbocharged V6 and its 335 horsepower, which delivers quick starts and impressive efficiency.
It doesn't get quicker or more efficient than the range-topping Cayenne Turbo S E-Hybrid and its one-two punch of the 4.0-liter twin-turbo V8 and a 100-kilowatt electric motor. The net result: 670 horsepower and 663 lb-ft of near-instant torque, a 3.6-second 0-60 mph sprint with the Sport Chrono Package and an EPA-estimated 39 mpg combined.*
More than just power, the new Cayenne delivers smoothness and refinement as only Porsche can deliver. The 2020 Cayenne offers advanced technologies like Porsche 4D Chassis Control, which optimizes your ride in real time, and a self-leveling adaptive air suspension that makes you feel like you're traveling on air. You wouldn't expect anything less than a transcendent experience in a Porsche, and the Cayenne more than delivers.
Hard to miss
One of the many perks of driving a Porsche is being seen in a Porsche. The 2020 Porsche Cayenne does the talking for you when it pulls up to a business lunch or swoops in to grab the kids from school. The instantly recognizable face of the Porsche brand works harmoniously with two unique body styles to create overwhelming curb appeal that's hard to quantify and impossible to ignore. For even more standout appeal, the new Cayenne Coupe adapts the iconic flyline of the Porsche 911, forging an even deeper connection with the brand's heritage and essence.
Dynamic style carries over into the interior of the Cayenne, where you'll find a modern command center that puts luxury and connectivity at your fingertips. Its clean dash design is at once classic and contemporary, infused with premium craftsmanship and a sporty feel that gives the impression of being in charge of a first-class luxury vessel. You'll feel it deeply, too, thanks to adaptive Sport seats with optional massage functionality. Tastefully sophisticated, the 2020 Porsche Cayenne exhibits excellence in every stitch and every detail.
Advanced technology
The 2020 Porsche Cayenne delivers a more comprehensive experience thanks to the latest in connectivity, convenience and safety. Adding to the sense of control is the latest Porsche Communication Management system, your hub for all things entertainment, communication and navigation. With a 12.3-inch HD touch-screen display, you can access Apple CarPlay
®
and control every aspect of your comfort. For longer trips with your family, you can extend the enjoyment fully with an available 21-speaker Burmester
®
3D sound system and innovative Porsche Rear Seat Entertainment system.
To ensure your safety and the safety of your family, the 2020 Porsche Cayenne serves up cutting-edge driver assistive technologies. Porsche InnoDrive smooths out your experience by adapting to the speed limit and the curve of the road, and features like Porsche Dynamic Light System Plus and Night Vision Assist make you feel as safe at night as you do in the daylight. Features like these and Lane Keeping Assist and Lane Change Assist make the Cayenne a capable choice for your family.
Your time behind the wheel should have a bit of kick to it. With the 2020 Porsche Cayenne, you get all the heat you can handle, not to mention a versatile vehicle that's great for families on the go.
*EPA-estimated. Actual mileage will vary.
This article is presented by Zimbrick European.