How to Stay Cool in Your Car This Summer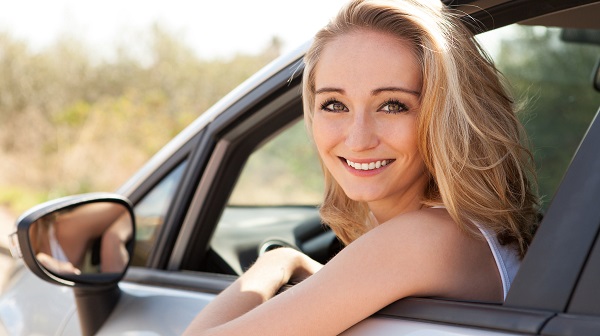 Summer is here, and temperatures are on the rise. Between hot seats and stuffy cabins, the dog days of summer can take a toll on your comfort. Here are a few handy tips to help you beat the heat when you're behind the wheel.
Increase airflow
Everyone knows that rolling down the windows can release the hot air trapped in your vehicle. However, there are some tricks you can use to cool down your car more efficiently. If you have a vehicle that connects to a smartphone app, you can use it to remotely roll down the windows and blast the fans before you get behind the wheel. If you don't have this convenient connectivity feature, you can still manually roll down the windows and turn the fans to full power for about a minute to flush out the hot, stale air in the cabin. Keeping your windows cracked can also help prevent excess heat from building up inside your vehicle — just be sure that your car is in a safe area, and check for rain in your local forecast.
Seek out shade
Parking in the shade can protect you from high temperatures — and safeguard your car's exterior from sun damage. Whenever it's possible, try to park beneath a tree, a carport, or inside of a garage. If you can't find a shady spot, do your best to block out the sun with a foldable sunshade. You can also invest in window tinting to keep the sun's heat and rays out of your vehicle. And in addition to helping control temperatures, these tips help you maintain your vehicle's value by protecting it from the fading effects of UV rays.
Invest in accessories
There are a variety of aftermarket accessories available to help you beat the heat. Supplement your car's climate control system with a plug-in portable fan. Most of these miniature fans plug into your car's 12-volt power outlet. They can be especially helpful if your backseat passengers need a little extra airflow. You can also combat rising temperatures with cooling seat covers. These offer a welcome reprieve when compared to the burn of sitting on hot leather or vinyl seats — especially when you're wearing shorts.
Bring your car in for AC service
There's no substitute for a functional air conditioning system. If your car's AC isn't quite as cool as it used to be, you can attempt to recharge it yourself using a kit from an auto parts store. However, it's critical to read up on the instructions and follow them precisely, since improper pressure in the climate control system can cause expensive damage to your vehicle. For an easier and quicker fix, take your car to a dealership service center for expert air conditioning service.
While the sun's rays can't be entirely avoided, a little planning ahead can help keep you and your passengers comfortable this summer. For more ideas, head online or consult an automotive technician for expert advice.
This article is presented by VanDevere Auto Group.