Vehicle Details: 2020 Lexus RC F Performance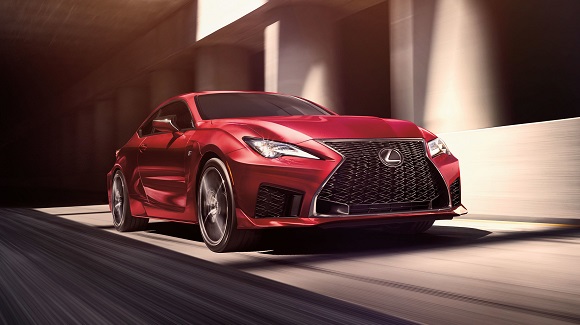 The 2020 Lexus RC F is a V8 sports coupe with more than its fair share of performance. Designed and engineered to stay glued to corners and accelerate like a tenth of a second might make the difference between life and death, you'll be hard pressed to find a car more visceral and fun to drive.
Speed
Under the hood of the 2020 Lexus RC F is a 5.0-liter producing 472 horsepower and 395 lb-ft of torque, first spitting and growling and eventually screaming as it reaches its 7,300 rpm deadline. It's one of the few remaining naturally-aspirated engines among today's luxury sports cars, which means it offers the instant response you simply can't get with even the best turbocharged engines. It works beautifully with the eight-speed automatic transmission that always seems to know exactly what gear you need to be in next. Thanks to a newly standard launch control system, the Lexus RC F accelerates from zero to 60 mph in just 4.2 seconds — a tenth faster than the previous model and a very strong time for a rear-wheel drive car.
Cornering
For the 2020 model year, Lexus pored over the RC F and trimmed extra weight just about everywhere it could. Weight-saving measures included shrinking the intake manifold and air-conditioning compressor, making the half-shafts hollow and switching several suspension brackets to aluminum. The car also benefitted from the insights of the RC F GT3 racing team and boasts a new aerodynamic front spoiler, high-performance Brembo
®
brakes with enhanced cooling capacity, Michelin
®
Pilot
®
Sport 4 S tires with a special-developed compound that boosts grip, an optimized rear diffuser and a speed-activated rear wing. The RC F is so capable in corners that Lexus designed high-back sport seats whose shape and materials disperse body pressure, provide muscular support and generally hold you in place as you carve through the roads.
Track Edition
For the most performance, you'll want the 2020 Lexus RC F Track Edition, a new model that was specifically designed to conquer race tracks. It boasts enhanced horsepower and torque, sheds about 120 pounds and comes with even more aerodynamic elements, including a carbon fiber front spoiler and a GT3-inspired rear wing. It was independently certified to accelerate from zero to60 mph in only 3.96 seconds, and Lexus says it produces 58 pounds of downforce at 168 mph.
If you're hunting down a car that offers top performance and the best in luxury, build quality and reliability — in other words, the fastest car with a Lexus badge — the RC F is it. But you may find yourself wondering if the cost to upgrade to the Track Edition is worth it. After all, the premium over a standard RC F is over $30,000, averaging out to about $264 for each of those pounds it managed to trim. That's going to seem very expensive — until your first time carrying a controlled slide to the edge of the track.
This article is presented by Lexus of Tulsa.