3 Protein-Filled Breakfasts Without Eggs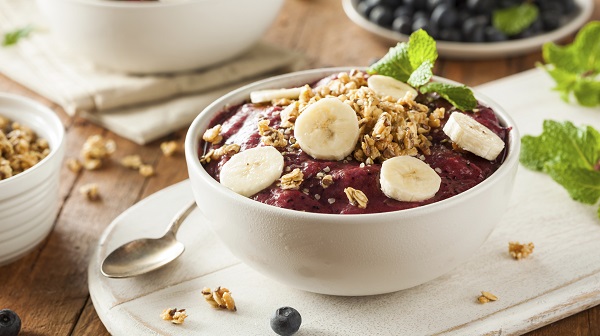 If you choose not to eat animal products or simply don't like eggs, it can be difficult to consume your recommended dose of protein in the morning. There are more enjoyable, satisfying ways of getting your necessary protein in the morning than a chalky protein shake. Here are some delicious, easy, egg-free breakfast recipes that are rich in protein.
Peanut butter chia overnight oats
A sweet, protein-rich meal that you don't have to cook? Yes, please! This simple recipe from Shannon Leparski, a Certified Hormone Specialist and owner of The Glowing Fridge, uses rolled oats soaked overnight in a jar. You can add whatever flavor mix-ins you want, but she prefers peanut butter and chia seeds. Pour 3/4 cup rolled oats, 2 tablespoons chia seeds, 1/2 teaspoon cinnamon and a pinch of salt into a mason jar. Put the lid on and shake it well. Reopen it to pour in 1 cup unsweetened almond milk, 1/2 cup filtered water, 1 teaspoon vanilla extract and a mashed ripe banana . Stir the jar's contents with a spoon. In a mixing bowl, blend 2 tablespoons peanut butter powder with 1 1/2 tablespoons water (you can also use a premixed nut butter). Pour that into the jar, stir again and top with a drizzle of maple syrup if you want. After refrigerating for four hours, your protein-packed oat blend will be ready.
Spicy scrambled tofu breakfast tacos
Prefer a savory breakfast with an egg substitute? Plant-enthusiast chef and writer Ashley Melillo shares this recipe for vegan, spicy scrambled tofu breakfast tacos on her website Blissful Basil. It only takes 30 minutes to prepare and can be made in large enough quantities to serve a whole family. First, roughly blend 3 Roma tomatoes in a food processor. Set that aside. Saute 1 diced poblano pepper and 1/2 diced red onion in a large skillet with olive oil. Once those begin to soften, add 1 jar roasted red bell pepper, 1 tablespoon chili powder, 1 tablespoon smoked paprika and 3/4 tablespoon sea salt. Stir and saute for another minute, and then slowly pour in the tomato puree from earlier. Immediately crumble in 1 block of sprouted, firm tofu that's been rinsed. Let the contents simmer for 10 minutes without burning. Squirt in fresh lime juice, stir for a minute, and then taste your concoction. Serve the tacos by scooping the tofu filling into small, warmed corn tortillas, topped with a spoonful of whipped avocado and a sprinkle of cilantro. These quantities serve three people with three small tacos each, so double or triple the amounts for more diners.
Easy peanut butter protein bars
Don't have the time to make a complete breakfast? Need something you can grab and eat on the go? Check out the recipe for these no-bake protein bars from the Gladd family on their cooking blog Seeded at the Table. They only take five minutes to prepare (excluding chilling) and can last for a whole week. Take a large, shallow baking pan (9-inch square or 7-by-11-inch are suggested) and line it with wax paper. Microwave 1 cup natural peanut butter and 3/4 cup honey in a bowl in the microwave for 30 seconds. Remove it to briefly stir with a spoon, and then return to the microwave to heat for another 30 seconds. Immediately fold in 1 1/2 cups quick oats (make sure you aren't using instant oats) and 1 cup vanilla protein powder, and quickly spread the mixture evenly inside the pan. After cooling in the refrigerator for an hour, the block can be sliced into bars, which you can wrap and store for up to a week.
You don't need to eat eggs for breakfast to get your necessary allotment of protein — you don't even need to cook breakfast for that! There are plenty of ways to have a filling breakfast no matter how hectic your morning is.
This article is presented by Zimbrick European.