3 Streaming Original Movies You Might Have Missed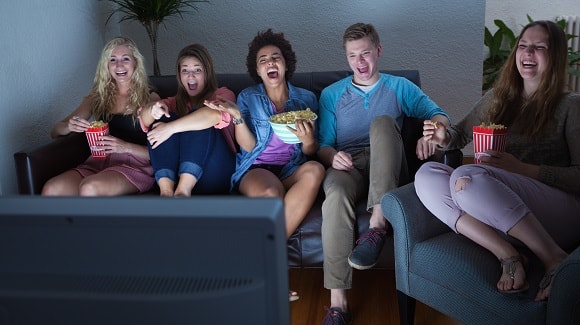 When you log on to your preferred streaming service, it can be a daunting task to simply pick something to watch. The endless scroll is sometimes unavoidable, leading to a large chunk of time spent reading descriptions or looking at cover art without ever actually choosing anything. While you were browsing, you may have missed these fascinating films from Netflix, Hulu and Amazon Prime.
"Unicorn Store" (TV-PG)
Before Brie Larson became known around the world as Captain Marvel, the California-born actress was busy producing and directing the fantasy comedy "Unicorn Store." While the film originally debuted in 2017 at the Toronto International Film Festival, it wasn't released to the public until Netflix uploaded it to its catalog in 2019.
Larson stars as Kit, a failed artist forced to move back in with her parents (portrayed by Joan Cusack and Bradley Whitford). After getting a boring office job, Kit is approached by "The Salesman" (Samuel L. Jackson), who invites her to a strange place that sells "what you need." In Kit's case, what she needs is a unicorn, according to her childhood fantasy. During her journey to acquire said unicorn, Kit faces some challenges at work and meets a new friend along the way.
This unconventional story of personal growth and self-acceptance was described as "a candy-coated, willfully quirky wisp of a film" by Leah Greenblatt of Entertainment Weekly and a "joyous celebration of femininity" by Clarisse Loughrey of The Independent.
"Tiny Shoulders: Rethinking Barbie" (NR)
Hulu primarily focuses on creating television shows for its viewers, but every once in a while the streaming service distributes documentaries covering a variety of interesting topics. "Tiny Shoulders: Rethinking Barbie," which premiered at the Tribeca Film Festival in 2018, is a thought-provoking and nostalgic documentary that takes a look at the popular doll's origin, how she has impacted the world and what the future holds for the iconic toy.
Gloria Steinem, Roxane Gay, Peggy Orenstein and Mattel insiders provide their commentary throughout the documentary, explaining why Barbie became so controversial and how today's cultural climate has changed the way people interpret and approve of children's toys. If you've seen the docuseries "The Toys That Made Us" on Netflix or just have nostalgia for the toys of your youth, you'll enjoy "Tiny Shoulders."
"Guava Island" (TV-MA)
It only makes sense that rapper Childish Gambino (born Donald Glover) would release a musical film at Coachella. "Guava Island," written by Glover and his older brother, premiered for festival attendees at the 2019 festival before its arrival on Amazon Prime a couple days later. The film stars Glover as Deni, a local musician determined to throw a music festival in his small town, and Rihanna as Kofi, a seamstress and Deni's girlfriend.
At only 56 minutes long, the film manages to add in "Black Panther" star Letitia Wright and "Game of Thrones" alum Nonso Anozie in supporting roles that truly shine. Additionally, Grammy Award-winning composer Ludwig Goransson ("Black Panther") worked with Glover to write and produce half of the songs on the film's soundtrack. Joelle Monique of the A.V. Club best described the film, saying, "Short, sweet, and to the point 'Guava Island' proves a catchy little musical number."
If you dig deep enough and take a chance on a new film, you might find a new favorite to share with your friends and family. Rather than watch a show you've seen hundreds of times before, consider one of these three films to broaden your viewing history.
This article is presented by VanDevere Auto Group.