Tips for Preventing Pesky Bug Bites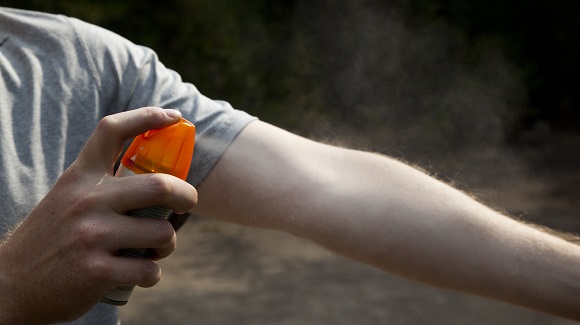 Mosquitoes, bees and ticks are annoying and potentially dangerous pests, but they are long-yearned for signs that warmer temps are in the forecast, and outside time for you and your family will be on the rise. To keep these pesky pests and their itchy bites at bay so you can enjoy the great outdoors this summer, incorporate the following tips into your routine.
Deter ticks
By donning light-colored long-sleeve shirts and long pants when meandering through a wooded area or near tall grasses, you'll have a better chance of spotting a tick, according to Pestworld.org. Flip-flops or open-toed sandals just beg ticks to latch on. Instead, the website recommends closed-toe shoes for your outdoor treks, and a chemical repellent, one that contains at least 20 percent DEET, is a good way to keep ticks away. Make sure to check that you, your family members and your pet are tick-free before going inside.
Ward off mosquitos
Just like ticks, mosquitos are not fans of DEET, and according to WebMD, it might be your most reliable option for warding off insect bites. If you choose to use a chemical bug repellent, carefully read the instructions and warnings. If you'd rather enjoy the outdoors chemical and bug bite-free, try this recipe from WebMD. "Make a solution by adding five drops of eucalyptus oil to 1 cup of water and dab it on your skin. Essential oil of citronella also discourages insects when placed on exposed skin."
The best way to not get mosquito bites is to create a mosquito-free environment. You can help prevent mosquitoes from infesting your yard by making it uninhabitable for the bloodsuckers. The Environmental Protection Agency advises getting rid of any water that might be lingering in your area. Drain the rain gutters, dry out any outside toys, clean up buckets and remove and replace water in fountains, rain barrels, bird baths and even the trays under planters. If you have a pool in your yard, make sure the water keeps moving and is properly treated at all times.
To help prevent mosquitoes from invading your home, the EPA recommends a window and screen check. Repair any holes and replace screens if necessary. Mosquitoes will gravitate toward exposed skin, so long pants, socks and long sleeves will help protect you from itchy bites.
Sidestep bee stings
If you look or smell like a flower or indulge in a sugary treat outdoors, prepare yourself for a potential bee sting. Bees are attracted to floral scents and bright colors as well as sugary snacks and fruit, warns ThoughtCo. writer Debbie Hadley. A stroll through the grass sans footwear could leave you with a nasty sting from bees that nest on your lawn, and loose-fitting clothing can provide the perfect entry point for a bee to hurt you, she adds. Flower gardens are the prime spot for bees to hang out — if you don't want to get stung, it might be best to appreciate the flowers from afar.
Don't let bugs ruin your time in the sun. Use these tips to help make your summer less buggy, itchy and irritating.
This article is presented by East Hills Chrysler Jeep Dodge Ram.