What Kind of Grill Do You Need?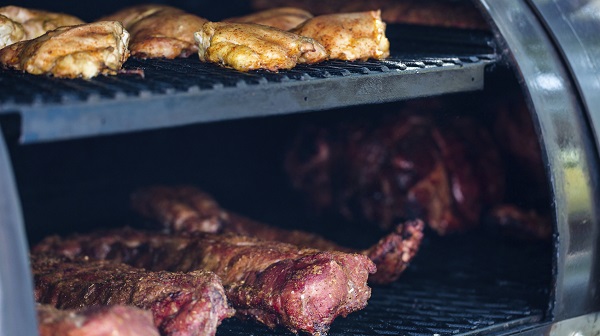 Sometimes, when it's nice outside, there's no better way to spend the afternoon than firing up the grill to make a delicious meal. But, if you're new to this unique method of cooking, it can be hard to tell which of the most popular types you should choose. Each is well-suited to something different, and it's important to know what will fit your needs before pulling the trigger and finally buying a grill.
Charcoal
If flavor is the name of the game for your backyard buffet, a charcoal grill may be your best bet. There are lots of foodies who swear by them because of the rich, smoky taste that food takes on after being cooked over hot coals, which adds another dimension to grilled food. There are even some coals that have been infused with distinct scents like applewood, cedar, and whisky. If you're feeling particularly ambitious, you can use a kettle charcoal grill — one that's basically just a rounded bottom with a coal reservoir under a set of grates, an air intake, and a lid — as a smoker.
There are a few downsides, though. To start, it takes a fair amount of time to light the coals, and you need to lay them out in such a way that they keep each other hot. You also can't just dump more into the reservoir to amp up the heat since that will suffocate the other coals. Additionally, if you live in an apartment, you may not be allowed to have one at all.
Gas
Gas and propane grills are some of the most popular variants because they're incredibly easy to use, surprisingly versatile, and generally affordable. The Hearth Patio and Barbecue Association "estimates that 72% of US households have a grill and more than 200 million people can enjoy outdoor cooking." Moreover, it states that "natural gas and propane grills make up the majority of these."
Models are available in a ton of styles, ranging from portable, apartment-friendly models to enormous, kitchen-grade powerhouses. It's easy to stay in control of the temperature so you don't overcook your steak or char your corn, and you can find propane at most grocery stores and gas stations. The only real drawback is that grilling over gas robs your food of that natural, smoky element.
Electric
To maximize ease of use — and avoid getting in trouble with your landlord or super — consider looking at electric grills. There's no actual flame involved, which reduces the risk of a fiery accident and makes them considerably better for apartment living. They also heat up pretty quickly and draw power from a standard outlet rather than potentially expensive charcoal or propane.
On the downside, they offer the least in terms of flavor derived from the cooking process. More aggressive seasoning can compensate for some of this, but whatever you're cooking will likely have a little less depth. Plus, many electric grills can't manage the temperature required to achieve a sufficient sear, which is where a lot of the flavor comes from. If your patio or deck isn't wired for electricity, this option may be a nonstarter.
Grilling is a tried-and-true summer tradition, and choosing the right kind is key to getting the most out of your ingredients and building a meal destined to make memories.
This article is presented by Joyce Koons Buick GMC.