Take a Lexus Test Drive
When you're ready for test drives, Lexus is ready for you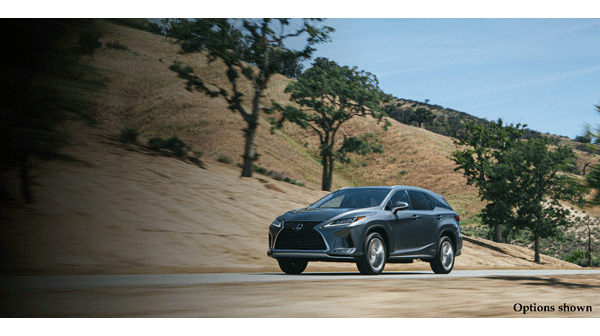 The 2021 Lexus models are coming. In fact, several of them, such as the latest Lexus LX, NX, and RX, will soon be arriving in dealerships around the country.
We mention this because the new model-year arrivals are always a great time to explore your next Lexus, whether you're thinking seriously about a new vehicle now, or if you just want to explore the Lexus lineup.
Obviously, it's been a different kind of year, but Lexus dealerships are at your service to provide the test-drive experience you feel the most comfortable with this fall and winter, whether that's an in-person or a remote experience.
"Basically, at our Lexus dealership, we're seeing a mix of guest desires when it comes to getting a closer look at new models," says one general manager on the West Coast. "Like many Lexus dealerships, we've applied our extreme personal service to a variety of test-driving experiences for guests who want to be either hands-on or hands-off."
If you're comfortable visiting showrooms, know that meticulous attention to detail has gone into making dealership showrooms spacious and accommodating. Lexus showrooms have always been roomy and open but, as one Lexus sales specialist points out, "we've taken our spacious layouts even further and implemented strict guidelines for giving guests ample physical space while still remaining attentive and helpful with model-related questions."
The same goes for the vehicles themselves. As another Lexus sales specialist explains about the meticulous cleaning standards in her dealership's showroom, every model in her dealership's showroom follows meticulous cleaning standards: "After a dealership employee exits a vehicle, say after moving one into a showroom, or if guest has sat down in a driver's seat to explore features, we carefully follow a list of CDC and local health-policy procedures for sanitizing surfaces."
And for guests interested in test-driving new models, but would rather not enter a showroom, many dealerships will meet them outside with a desired vehicle—some dealerships even have outdoor display areas in their parking lots.
Also popular, explains a sales specialist, are test-drive deliveries: many dealerships will bring models to their guests' homes or businesses, sanitized and ready for a test drive. Dealership policies vary, but many allow guests to keep the vehicle for 24 hours before personnel pick up and return the vehicle to the dealership. Some dealerships can also use these drop-offs or pickups to appraise guests' current models on the spot for trade-in value.
And then, of course, there are digital and virtual vehicle tours, which are great for guests wanting to explore models without a hands-on drive. Lexus dealerships have gone to great lengths to make their inventories and vehicle photos as informative as possible for online shopping (in the case of the new
2021 Lexus IS
, there's an amazing augmented reality app, called
Lexus AR Play
, that allows you to explore the model in digital detail).
Plus, dealership experts, including Lexus Technology Specialists, are always at your disposal to answer vehicle-related questions by phone, email, text, or chat.
By Brian Gill