How to Read More Books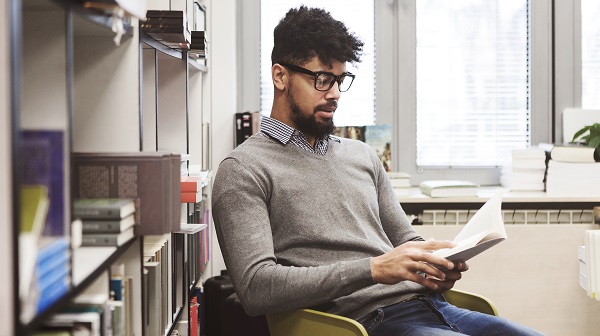 Reading is an incredibly enjoyable pastime — and so much more. A good book can expand your horizons, introduce you to new ideas, and provide an escape hatch when everyday life gets too overwhelming. Whatever the current role of books in your life, these seven tips will inspire you to read more and help you fit more reading time into your daily routine.
Read what you enjoy
Start your journey by trusting your taste and reading books you enjoy. Whether you prefer romance novels or in-depth biographies, fantasy epics or fast-paced thrillers, you're much more likely to spend time turning the pages if you actually like what you're reading. Not sure what's out there? Local librarians and booksellers are great sources for recommendations. You can also go online to see what your friends, fellow book lovers, and favorite authors are currently enjoying.
Don't be afraid to explore
It's good to read what you enjoy, but it's also good to check out new things. If you tend to stick to certain genres or authors, try branching out and trying something different. For example, if you read nothing but crime fiction, consider changing things up with a nonfiction read or a sci-fi novel. This can be especially effective when you feel stuck in a reading rut and the types of books you normally read just aren't appealing to you.
Try audiobooks
If you have a long daily commute, want to multitask while exercising or cleaning, or just don't feel like concentrating on a traditional book, try an audiobook instead. Yes, reading with your ears is a different sort of experience than reading with your eyes, but it's still a great way to bring more books into your life.
Make reading a part of your day
Book Riot recommends making reading a priority by setting aside time for it each day. Pick up a book when you first get up in the morning or before you go to bed each night. If you have a lunch hour at work, use it to read a chapter or two rather than watching online videos or chatting at the water cooler. And if you watch television for two or three hours every evening, consider reading for one of those hours instead.
Know when to put a book down
There's no rule that says you have to finish every book you start. If you read the first few pages or chapters and aren't engaged or interested, set the book aside — it'll still be there in a few months or years if you want to try again. In the meantime, you can spend your precious reading hours with a title you enjoy.
Get comfortable
You're more likely to spend time reading if you have a comfortable spot for it. Whether it's a favorite recliner, a folding chair under a tree, or a bench in a bustling city square, finding your happy place will make your time with a book even more relaxing. Real Simple suggests setting aside a dedicated reading nook in your home. Make sure your reading space has good lighting, welcoming decor, and whatever else makes you feel cozy and undistracted.
Put away your phone
Your smartphone is the source of endless distractions that can cut into your valuable reading time. If texts, notifications, or social-media scrolling make it hard for you to fully immerse yourself in a book, try throwing your phone in a drawer or putting it in another room.
As you start putting these tips into practice, you'll be well on your way to completing more books — and to creating a lifestyle that prioritizes the pleasures of reading.
This article is presented by VanDevere Auto Group.